Utmärkelsen är ett erkännande för den inverkan Schneider Electric har haft när de har hjälpt sina kunder att sätta och uppnå mål för minskade koldioxidutsläpp med hjälp av IoT-plattformen EcoStruxure™, som stöds av Microsofts teknik.
Under perioden 2018-2020 bidrog Schneider Electric till att kunderna kunde minska koldioxidutsläppen med 134 miljoner ton. Efter första kvartalet 2021 var siffran uppe i 276 miljoner ton.
I februari i år utsågs Schneider Electric till världens mest hållbara företag av Corporate Knights, bland annat för sitt arbete med att hjälpa företag att uppnå satta klimatmål. Med hjälp av sin IoT-plattform EcoStruxure™, som bygger på den senaste versionen av Microsoft Azure, hjälper Schneider Electric organisationer att sätta, uppnå, mäta och rapportera om vetenskapligt baserade utsläppsmål, samtidigt som de påverkar resultatet positivt.
– Att vinna Microsoft Sustainability Changemaker Partner of the Year 2021 är ett erkännande av det arbete vi gör tillsammans för att bekämpa klimatförändringar. Det här är ett mycket uppskattat samarbete och framöver kommer vi att arbeta med implementeringen av en ny lösning som tagits fram och kommer säljas gemensamt, EcoStruxureTM Traceability Advisor. Lösningen kommer att hjälpa våra gemensamma kunder att koppla ihop den stora mängden data i värdekedjan för att bygga en 360-graders motståndskraftig och spårbar försörjningskedja, säger Philippe Delorme, Executive Vice-President, Energy Management på Schneider Electric. Som världens mest hållbara företag enligt Corporate Knights, vet vi att framtiden är grön, smart, sätter människan i fokus och drivs av förnybar energi. Vi är tacksamma att vår ambition delas av vår partner när vi fortsätter att utöka vårt produktutbud och stärka vårt 30-åriga samarbete med Microsoft, för att tillsammans bygga en hållbar framtid.
Ett exempel på en kund som Schneider Electric har hjälpt tillsammans med Microsoft är JLL, en av världens största fastighetsägare. JLL har satt upp ambitiösa åtaganden för att minska sitt koldioxidavtryck och få fram energi- och hållbarhetsdata som kan användas i hela investeringsportföljen.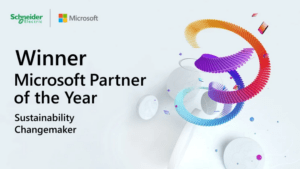 Darren Battle, Asia-Pacific Head of Corporate Real Estate and Workplace på JLL:
– Tack vare Schneider Electrics EcoStruxure-lösning för fastigheter kan JLL:s nya huvudkontor i Singapore använda smart IoT-teknik som stödjer ambitionen att skapa framtidens arbetsplats. Lösningen hjälper JLL att förbättra välbefinnandet bland dem som vistas i byggnaden, minska energianvändningen med 30 procent och öka värdet på byggnaden på ett hållbart sätt.
I och med utmärkelsen fick Schneider Electric också uppmärksamhet av Microsoft för att ha utvecklat en omfattande strategi för energihantering och hållbarhet för Blackstone, ett av världens största privata riskkapitalbolag. Schneider Electric implementerade sin flaggskeppslösning för ESG-programvara, EcoStruxure™ Resource Advisor, för att samla in och normalisera energi- och försörjningsdata på alla nivåer i Blackstones portfölj, från enskilda anläggningar till regioner.
Data från Resource Advisor gör det möjligt för Blackstone att förhandla fram avtal med elbolag och andra leverantörer och få rätt energikälla till lägsta möjliga pris. Uppgifterna används också för att utveckla branschspecifika scorecards, som uppdateras automatiskt för att följa kritiska KPI:er. Detta har hjälpt Blackstone att spara tiotals miljoner dollar på sin energianvändning, med hållbar och strategisk energiförsörjning. I september 2020 satte Blackstone upp ett mål att minska koldioxidutsläppen med 15 procent inom tre år efter att ha köpt en tillgång eller ett företag till sin portfölj. Lösningar från Schneider Electric är en viktig del av Blackstones framgång för att nå detta mål.
Schneider Electric har drivit hållbarhetsfrågan i mer än 15 år och har också åtagit sig att uppnå nettonoll koldioxidutsläpp i hela värdekedjan till 2050. Tidigare i år genomförde företaget Zero Carbon Project, ett nytt och ambitiöst program som är utformat för att hjälpa de 1 000 största leverantörerna att minska sina utsläpp med 50 procent till 2025.