ABB FIA Formula E World Championship återvänder i helgen för femte gången till Red Hook-området i New York City.
Mot bakgrunden av de ikoniska Manhattan-skraporna slingrar sig Red Hook Circuit runt Brooklyn Cruise Terminal under Frihetsgudinnans granskande blick.
Den 14 kurviga och 2,32 km långa banan består av höghastighetssvängar, raksträckor och hårnålskurvor som bildar en spännande och utmanande stadsbana åt de 22 tävlande.
Theodor Swedjemark, ABB:s kommunikations- och hållbarhetschef, säger: "Det är härligt att vara tillbaka i New York City och att än en gång visa upp framtiden inom hållbara transporter och vad elbilar klarar av, här på ABB:s största marknad. Det är en marknad där vi sedan 2010 har investerat över 14 miljarder dollar i anläggningsutbyggnader, nyexploatering av grönområden och förvärv för att snabba upp anammandet av e-mobilitet och elektrifiering – för att i slutänden driva på mot en mer hållbar framtid."
När USA börjar implementera  den största laddningsinvesteringen för elbilar med installation av en halv miljon elbilsladdare över hela landet, kommer ABB att spela en avgörande roll för att uppnå detta  mål. Idag driver ABB mer än 1000 laddningsplatser i USA och fortsätter att investera i e-mobilitetssektorn. ABB tillför i år 125 jobb i sin e-mobilitetsverksamhet i USA. I Sugarland, Texas öppnar ABB ett utbildningscenter där man ska tillhandahålla auktoriserade servicepartners praktisk utbildning i service och underhåll av elfordonsladdare. Samtidigt öppnar ABB i södra Kalifornien en produktutvecklings- och forskningsanläggning där man kommer att designa, utveckla och testa elfordonsladdare för den amerikanska marknaden.
Dessutom förvärvade ABB i år en kontrollerande andel i bolaget för kommersiella laddinfrastrukturlösningar för elbilar, InCharge Energy, som utökar ABB:s smarta och uppkopplade elbilserbjudande. ABB har också investerat i leverantören för mjukvaruladdningar för elbilar, ChargetLab samt tecknat ett partnerskapsavtal för att utveckla nästa generations mjukvarulösningar för ABB:s laddstationer. Dessa investeringar stärker ABB:s position på den amerikanska marknaden och stödjer ytterligare dess vertikalt integrerade erbjudande som inkluderar laddningsmaskinvara, digitala tjänster och avancerade energi- och flotthanteringssystem.
Den här utvecklingen inom e-mobilitet sträcker sig långt bortom vägarna: ABB minskar också koldioxidanvändningen inom marinindustrin genom att öka antalet eldrivna färjor och möjliggöra större kapacitet för elektrifiering vid kajkanten. Ett sådant exempel är de hållbara tekniklösningarna som installerats i två nya Maid of the Mist-passagerarfartyg vid Niagarafallen i norra delen av New York. De är de första helt eldrivna fartygen som någonsin byggts i USA och de utnyttjar ABB:s utsläppsfria teknik. Fartygen drivs helt av högkapacitetsbatterier som gör det möjligt för besökarna att uppleva Niagarafallen utan störande motorbuller, vibrationer eller avgasutsläpp från konventionella dieselmotorer.
ABB:s satsning på att tänja gränserna inom hållbar utveckling omfattar även den energi som används. Företaget har tilldelats två stora kontrakt av Plug Power Inc. (NASDAQ: PLUG) för att tillhandahålla elsystemen till två nya vätgasanläggningar i Nordamerika, inklusive kontinentens största i New York. Anläggningarna ska tillsammans producera 60 ton grön vätgas per dag och ersätter i storleksordningen 170 ton fossila bränslen i logistik- och transportsektorn. Grön vätgas produceras med förnybara energikällor och släpper ut noll koldioxid när det används som bränsle. ABB:s lösningar bidrar till att göra produktionen billigare, mer tillgänglig och hållbar.
Inför E-Prix i New York City har ABB släppt en ny video i serien som en del av företagets samarbete med FIA Girls on Track. Videon med Cristina Mañas Fernández, Performance & Lead Data Science Engineer vid Jaguar TCS Racing, tar en titt på vad som lockade henne till motorsport, hennes roll i laget och vikten av att ge lika möjligheter unga barn oavsett kön.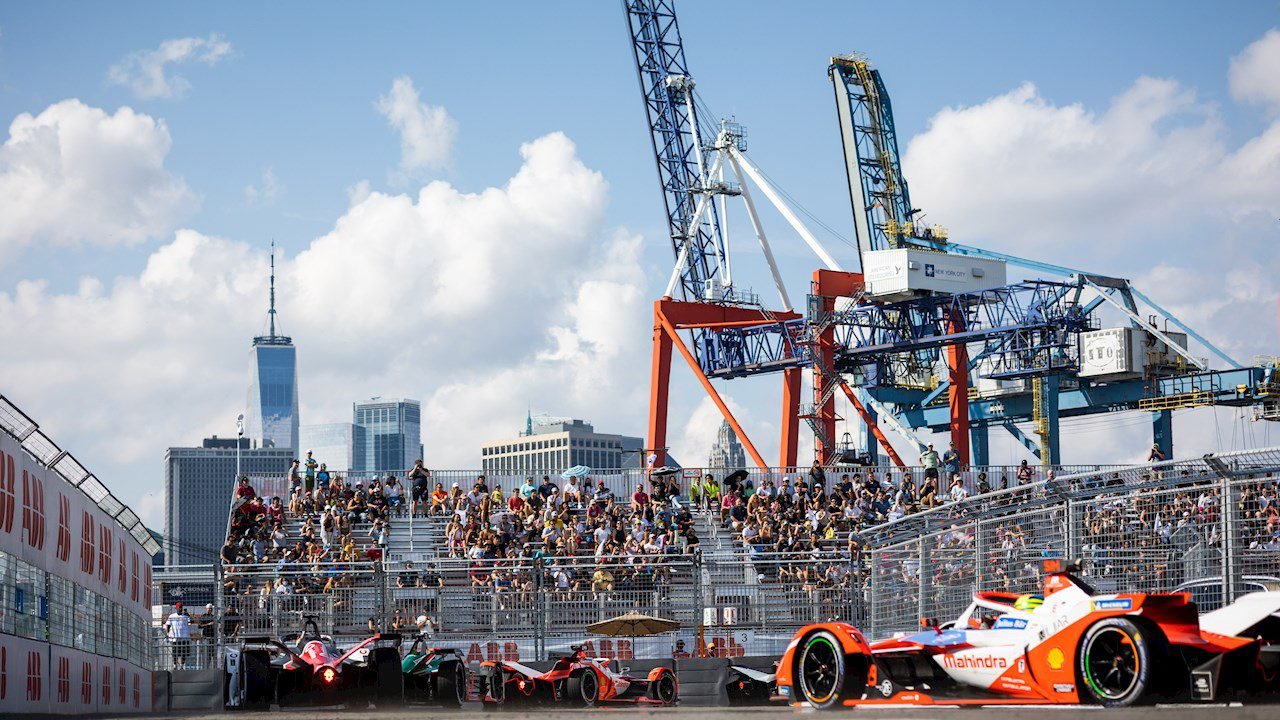 På torsdag släpper ABB också den senaste videon i serien Drivers of Progress. I videon diskuterar Daniela Lužanin, chef för ABB Formel E-samarbetet, och Hannah Brown, stabschef för Formel E, vilken påverkan och vilka fördelar som FIA Girls on Track-programmet fört med sig och varför både Formel E och ABB gärna har stött programmet.
Efter New York City drar ABB FIA Formula E World Championship vidare till London för omgång 13 och 14 den 30–31 juli.