I början av oktober släpps vår rapport Impacts and Insights 2019, som mäter hur varumärkesägare med IT-produkter certifierade enligt TCO Certified tar ansvar för sin leverantörskedja. Du kan ta del av resultatet i ett webbinarium och ett frukostseminarium.
Det finns många hållbarhetsrisker i leverantörskedjan för IT-produkter. Bristfällig arbetsmiljö, långa arbetsveckor, tvångsarbete och diskriminering är några av problemen som förekommer. Skadliga ämnen är en risk mot människors hälsa och miljön. IT-produkter innehåller dessutom ofta konfliktmineraler som bryts i gruvor där människor exploateras.
Hur bidrar TCO Certified till förbättringar, och går utvecklingen tillräckligt snabbt?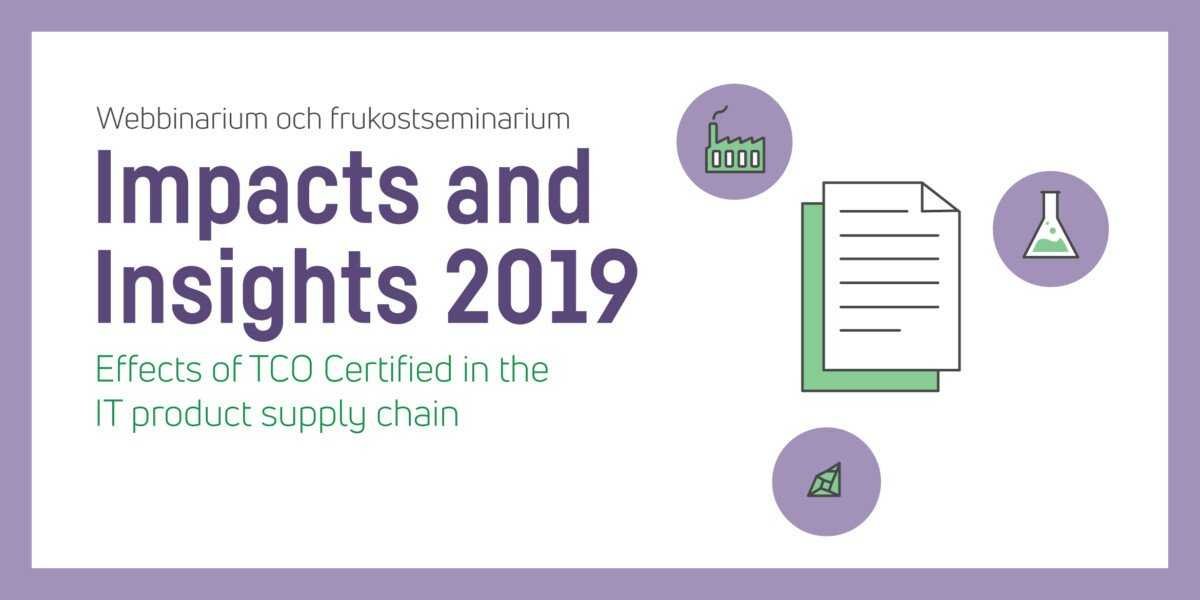 I ett webbinarium och ett frukostseminarium lyfter vi de mest spännande resultaten i Impacts and Insights 2019 och pratar om vilka utmaningar vi lyckats lösa — men också de som kvarstår. Vad krävs för att fabriksarbetare ska få rimliga arbetstider som inte riskerar att skada deras hälsa? Och hur kan vi förhindra att problem som blir lösta inte återuppstår?
Social hållbarhet i fabrikerna där IT-produkter tillverkas: därför krävs mer än fabriksgranskningar och uppförandekoder för att lösa hållbarhetsproblemen.
Skadliga ämnen: Vilka är riskerna för människa och miljö, och hur är det möjligt att få kontroll över en industri som är mycket mer snabbfotad än lagstiftningen?
Konfliktmineraler: Mänskliga rättigheter kränks i gruvorna och leverantörskedjorna är svåra att kartlägga. Är flerpartsinitiativ vägen framåt?
Så kan din organisation bidra till positiv förändring genom hållbar upphandling.
Webbinarium (på engelska)
Webbinariet ger internationella intressenter och de som inte har möjligheten att närvara på frukostseminariet i Stockholm chansen att ta del av resultaten i rapporten Impacts and Insights 2019.
Frukostseminarium (på svenska)
14 november, kl 8.30-10. Linnegatan 14 (TCO-huset), Stockholm.
Under frukostseminariet i Stockholm berättar vi om resultaten i rapporten Impacts and Insights 2019. Kom gärna i tid för att träffa hållbarhetsexperter och branschkollegor. Frukost från 08.00. Antalet platser är begränsat.