Elbilen Jaguar I-PACE har vunnit över 80 internationella priser, bland annat de prestigefyllda titlarna World Car of the Year och World Car Design of the Year.
På konstmässan Affordable Art Fair har bilen fått en helt ny abstrakt look i samarbete med konstnären Christina Julsgaard.
"När vi utvecklade I-PACE ville vi att den skulle bli världens mest eftertraktade elbil och visa vad som händer när Jaguar satsar på eldrift." Alan Volkaerts, Vehicle Line Director, Jaguar I-PACE
I-PACE rev upp regelboken när den lanserades 2018 med sin eleganta, kupéliknande siluett som influerats av superbilen Jaguar C-X75, med kort och låg motorhuv, strömlinjeformad takdesign och välvd bakruta. Fyra år senare är designen precis lika uppseendeväckande och har lyfts ännu ett snäpp med hjälp av en finish i Atlas Grey på frontgrillens nät och en rad lyxiga tillval som premiumtextilinredningen från Kvadrat och olika exteriörpaket som kan förse bilen med blanksvarta eller kromade exteriördetaljer. Hantverket är utsökt och detaljnoggrannheten stor, precis som man förväntar sig av en Jaguar.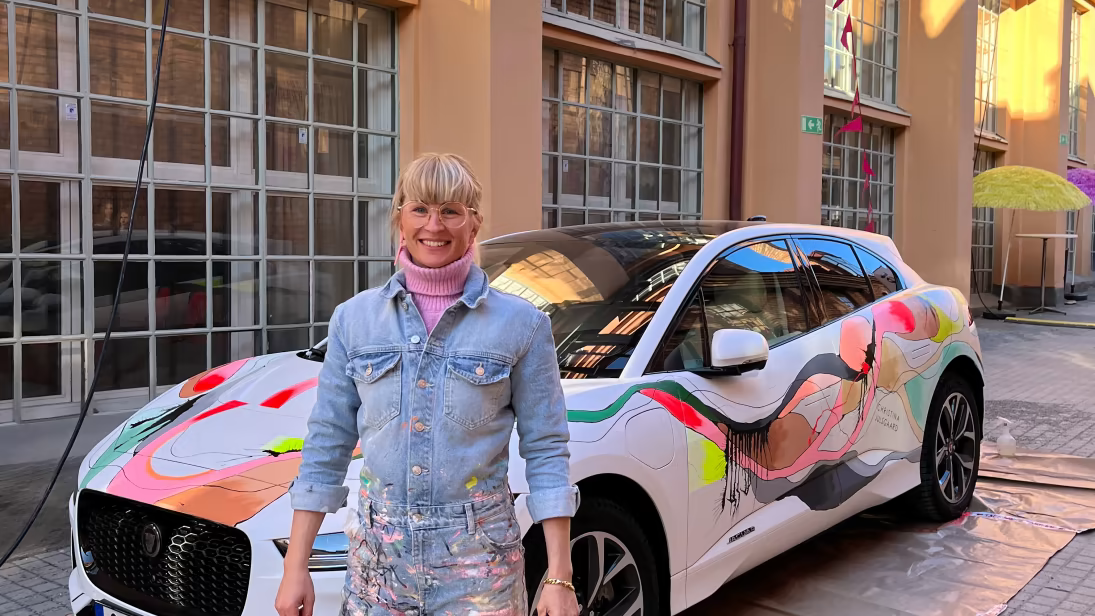 "Vi har valt att låta I-PACE bli en del av Affordable Art Fair eftersom det är vår mest innovativa SUV, som med sin elektriska drivkraft passar perfekt för storstadsbor som vill köra mer hållbart men inte vill kompromissa med bilens design. Under mässans gång kommer den danska konstnären Christina Julsgaard ge I-PACE en helt ny look genom att måla den live i sin karaktäristiska abstrakta stil. Ett spännande sätt att försöka omdefiniera bilens uttryck och få människor att betrakta den på ett nytt sätt." Helena Stenqvist, PR, Influencer and Event Manager, Jaguar Land Rover
Affordable Art Fair äger rum på Nacka Strandsmässan i Stockholm den 20-24 april. Medverkar gör över 50 gallerister och verk från fler än 200 konstnärer kommer att ställas ut. Har du inte möjlighet att besöka konstmässan och se Christina Julsgaards förvandling av I-PACE kan du få en ny chans inom kort, bilen ställs nämligen även ut på elbilsmässan eCarExpo på Friends Arena den 29 april-1 maj.