Allt fler skaffar elbil och måste av elbilsladdning ökar kraftigt.
Men fortfarande hindrar många av brist på laddningsmöjligheter i anslutning till hemmet.
För bostadsrättsföreningar och samfälligheter gäller det att snabbt hitta och etablera laddlösningar som tillgodoser medlemmarnas behov. Men vad ska man tänka på?
Antalet elbilar ökar snabbt. En undersökning av Norsk Elbilsförening visar att det näst största hindret för att köpa en elbil i Sverige är bristen på laddningsmöjligheter hemma, största hindret är fortfarande inköpspriset. Den bästa laddplatsen är bilens ordinarie parkeringsplats som ofta finns i anslutning till hemmet. Många bostadsrättsföreningar och samfälligheter måste nu snabbt hittas och etablera laddlösningar för att undvika en situation där de boende tar egna initiativ, något som kan bli både dyrt och problemiskt.
Right to charge, men ännu inte i Sverige
I Sverige är det än så länge svårt för en enskild boende att ställa krav på sin bostadsrättsförening, hyresvärd eller samfällighet att tillhandahålla laddningsmöjlighet. Men i flera andra länder i Europa finns lagstiftning för att boende i flerbostadshus att få tillträde till laddning. Dessa lagar kallas ofta "Right to charge". Så är det till exempel i Norge, ett av världens mest elbilstäta länder, där man sedan årsskiftet 2021 har lagstadgad rätt till elbilsladdning i både samäganderätt och bostadsrätt. Lagarna innebär att delägare eller bostadsrättsföreningar ska upprättas, eller tillåta etablering av, elbilsladdning för boende som önskar det om det inte finns en saklig grund att vägra.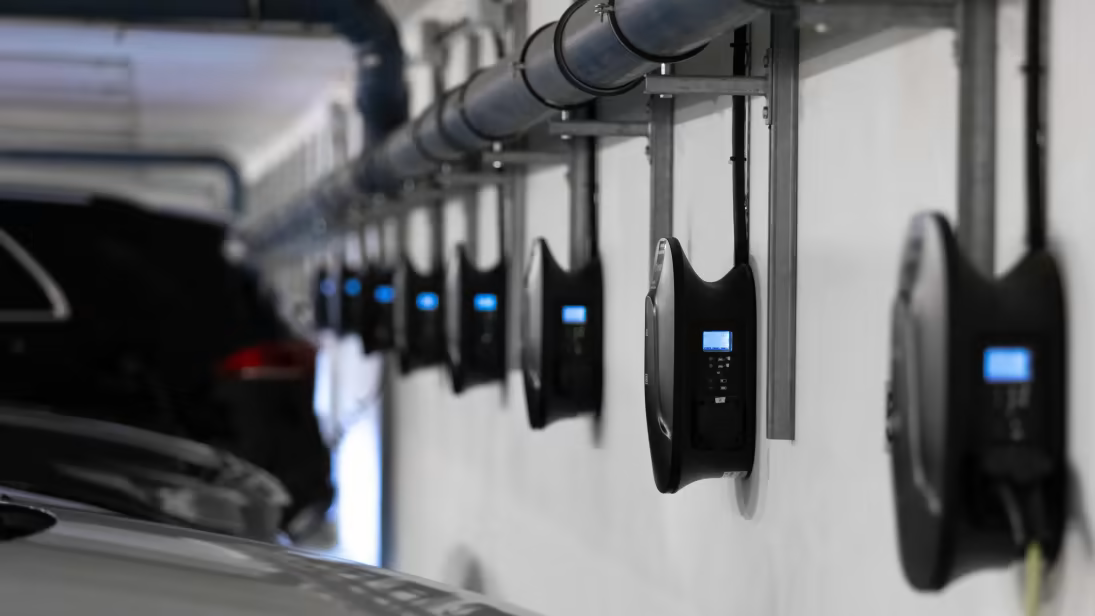 I Sverige har vi ännu inte någon lagstadgad rätt till elbilsladdning, men redan idag finns kriterier som fastighetsägare behöver förhålla sig till. Den 15 maj 2020 infördes nya krav på laddning av elfordon i plan- och bygglagen. Ett av kraven innebär att nya bostadshus med fler än tio parkeringsplatser i byggnaden eller på tomten ska ha ledningsinfrastruktur till alla parkeringsplatser. Reglerna ska även tillämpas vid ombyggnation som innebär ändringar av parkeringsplatser på fastigheten.
Tänk på det här när ni etablerar en laddlösning
Som bostadsrättsförening eller samfällighet är det en stor fördel att ett helhetsgrepp kring nuvarande och framtida behov innan de boende börjar etablera egna lösningar, något som snabbt blir ineffektivt och överskådligt. En välplanerad gemensam lösning blir bättre och billigare för alla. Här är några saker som är viktiga att tänka på:
Rättvis effektfördelning
Planera för en rättvis och effektiv laddningsläggning genom att utvärdera nuvarande laddbehov, men med hänsyn till framtida behov av laddning. Det är vanligt att man inleder med ett fåtal laddpunkter för att sedan utöka när bör uppstå. För att tillgängliggöra att alla kan ladda måste den elen fördelas rättvist. Många bostadsrättsföreningar och samfälligheter är oroliga över att elen inte kommer att räcka och att de ska behöva öka huvudsäkringen för att få en laddanläggning på plats. Smarta lastbalanseringslösningar gör dock detta onödigt i de allra flesta fall.
Rättvis fördelning av utgifter
En annan vanlig fråga är hur kostnaden för elförbrukningen ska fördelas. En del medlemmar oroar sig för att behöva betala för andras laddning och strömförbrukning. I mindre bostadsrättsföreningar och samfälligheter är det vanligt att styrelsen själv läser av användarnas förbrukning och fakturerar medlemmarna. Alternativet är att varje användares faktureras direkt av laddsystemsleverantören.
Viktigt att komma ihåg är att el som inte ingår i avgiften utan debiteras efter förbrukning ska beläggas med moms. Det kan innebära att föreningen behöver momsregistreras.
Låt föreningen äga utrustningen
Anni Carpelan, chef för hållbar utveckling på Fastighetsägarna Stockholm, tipsar i e-mobilitypodden om att låta föreningen äga laddutrustningen. Om den boende själv äger utrustningen uppstår lätt problem i samband med en eventuell flytt; ska utrustningen tas med eller överlåtas? Detta är ytterligare ett skäl till att bostadsföreningen eller samfälligheten bör ta ett helhetsgrepp kring laddfrågan.
Bostadsrättsföreningar och samfälligheter har möjlighet att ansöka om Ladda bilen-bidrag för etablering av elbilsladdning. Mer information finns på Naturvårdsverkets hemsida.
På defa.com hittar du en utförlig guide till elbilsladdning i bostadsrättsföreningar och samfälligheter.