Gunnebo är det första företaget inom branschen för fysisk säkerhet som utfärdar miljövarudeklarationer (EPD, Environmental Product Declarations) för sina produkter i enlighet med det internationella EPD-systemet.
Ett viktigt framsteg som tydligt visar på Gunnebos strävan efter faktabaserad hållbarhetsrapportering och sänkta koldioxidutsläpp inom hela verksamheten och produktportföljen.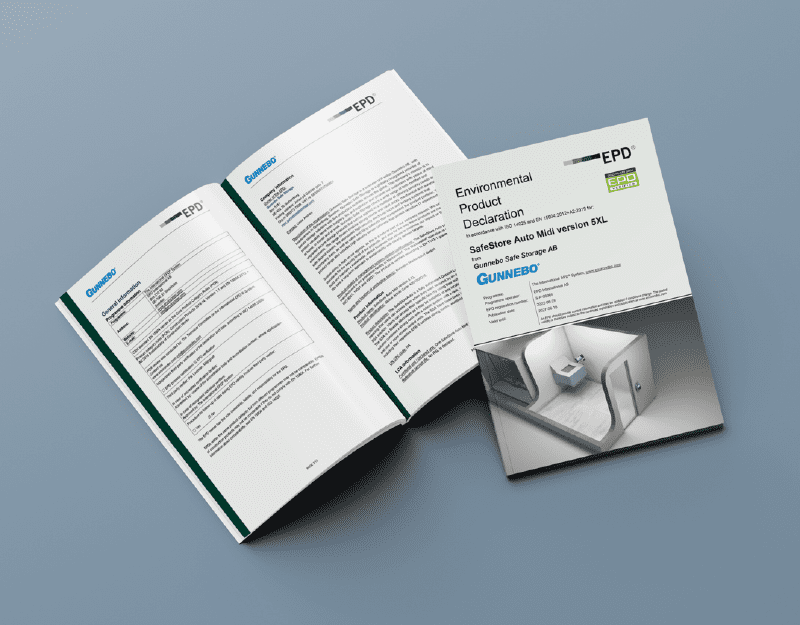 EPD är ett internationellt erkänt och oberoende granskad deklaration som ger information om en produkts miljöpåverkan under hela livscykeln, från råmaterialutvinning till dess att den tas ur bruk.
Gunnebos EPD:er registreras genom det internationella EPD-systemet, världens främsta och äldsta EPD-program. Dess EPD:er används bland annat inom system för gröna byggnader som BREEAM och LEED, program för byggnadsinformationsmodellering samt EU:s system för grön offentlig upphandling.
Gunnebo-koncernen arbetar för att uppnå netto noll växthusgasutsläpp till år 2045.
"Att vi deklarerar våra produkters miljöpåverkan genom EPD:er tror vi tydligt bevisar vår trovärdighet och transparens, samt vårt arbete för hållbarhet och socialt ansvarstagande", säger Linda Andrén, VP Business and Development and Sustainability, Gunnebo Safe Storage.
"Våra internationella säljbolag och tillverkningsenheter är redan ISO-certifierade för sin miljöstyrning. Nästa steg är att se bortom företagets koldioxidavtryck och mäta våra produkters påverkan under hela livscykeln så att vi kan minimera den."
"EPD:er visar på läget just nu, men de genererar viktig kunskap och insikt. Vi kommer att bygga vidare på detta för att åstadkomma förbättringar och minska vår miljöpåverkan ytterligare. EPD:erna är dessutom en viktig del i att skapa trygghet för våra kunder, som kan känna sig säkra på att vi är en ansvarstagande producent som integrerar vårt hållbarhetsarbete i varje del av vår verksamhet, säger Christian Carlsson, SVP HR & Sustainability för Gunnebo-koncernen.
Gunnebo har utfärdat EPD:erna i samarbete med AFRY, som är ett europeiskt ledande företag inom hållbar teknik, design och rådgivning runt om i världen.