För dem som åker på larmsamtal i nödsituationer är det helt avgörande att komma fram till platsen så snart som möjligt.
Orsaker som gör att de måste sakta ner kan få förödande konsekvenser.
Ford har testat uppkopplad trafikljusteknik som automatiskt kan slå om till grönt för att ge tydligare vägar för ambulanser, brand- och polisbilar. Detta skulle också kunna bidra till att minska risken för en olycka som orsakas av räddningspersonal som kör mot rött ljus.
"Oavsett om det är en brandbil som bevakar en brand eller en ambulans som är på väg till en olycka, är det sista någon vill att dessa förare ska tvingas stanna bland andra fordon som väntar på att trafikljusen ska slå om", säger Martin Sommer, forskningsingenjör , Automated Driving Europe, Ford of Europe.
Trängseln kan också minskas med trafikljus som skickar den rödgröna tidsinformationen till fordon som närmar sig.
Försöket var en del av ett bredare projekt som innebar att testa automatiserade och uppkopplade fordon och nätverksinfrastruktur på motorvägar, i städer och på landsbygden. Denna forskning är exempel Fords engagemang för att använda uppkopplad teknik och innovation för att förbättra körupplevelsen.
Hur det fungerar
För att testa tekniken använde Ford en väg med åtta på varandra följande trafikljus i Aachen, Tyskland, och två sträckor med tre på varandra följande trafikljus strax utanför staden, alla uppsatta av projektets partners.
En Ford Kuga Plug-In Hybrid, utrustad med ombordenheter (för att kommunicera med infrastrukturen) och prototyphårdvara för snabbstyrning, fungerade som ambulans- och passagerarfordon för de olika test-scenarierna.
För att testa en nödsituation signalerade testfordonet till trafikljusen att ljuset skulle bli grönt. När fordonet passerat genom korsningen återgick trafikljusen till standarddrift.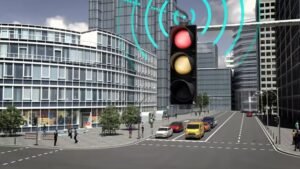 För att testa dagliga körsituationer fick testfordonet tidsinformation för när trafikljusen övergick från rött till grönt och grönt till rött. Fords Adaptive Cruise Control-teknik anpassade sedan fordonets hastighet för att säkerställa att en högre andel av trafiken stötte på grönt ljus.
När trafikljuset var rött sänktes fordonets hastighet långt före korsningen för att tajma fordonets närmande för att komma fram till ljuset i samma ögonblick som det blev grönt, till exempel från 50 km/h till 30 km/h.
För fordon som möter rött ljus kan tekniken fortfarande hjälpa till att minimera hårda inbromsningar och tiden för stillastående. Fordonet fick trafikljusinformationen långt före korsningen och saktade ner tidigare, vilket bidrog till att minska köerna.
Kommunikationen mellan fordon och trafikljus möjliggörs av C-V2X (Cellular Vehicle-to-Everything) teknologi, en enhetlig plattform som kopplar fordon till vägkantsinfrastruktur, andra fordon och andra trafikanter.
"Utbyte av data mellan bilar, utryckningsfordon och trafikljus i realtid med hjälp av den senaste mobiltelefontekniken gör vägtrafiken säkrare och mer effektiv", säger Michael Reinartz, direktör, Consumer Services and Innovation, Vodafone Tyskland. "Intelligent trafikljuskontroll hjälper till att rädda liv när varje sekund räknas och minskar även onödiga väntetider och minskar CO2-utsläppen."
Fords ingenjörer testade detta system som en del av projektet Corridor for New Mobility Aachen-Düsseldorf (ACCorD), finansierat av det tyska federala ministeriet för digital och transport och stöds av RWTH University Aachen, Vodafone, Straßen.NRW (vägmyndigheten för Nordrhein). Westfalen) och staden Aachen. Projektet pågick från januari 2020 till mars i år.