Kalmar Energi förnyar samarbetet med Mer och gör det ännu enklare för boende i regionen att gå över till elektrifierat.
Kalmar Energi kan nu även erbjuda snabb och säker laddning hemma och under året ska det byggas ännu fler publika laddstationer i kommunen som kommer att ingå i Mer's publika laddnätverk.
Därmed blir det även enklare för alla de som reser med elbil till i regionen.
Byggt laddinfrastruktur för elbilar sedan 2016
Kalmar Energi har samarbetat med Mer Sverige sedan 2016 för att underlätta omställningen till elektrifierat genom att bygga laddinfrastruktur för elbilar i regionen. Sedan dess har Kalmar Energi etablerat cirka 30 publika laddstationer i kommunen som ingår i Mer's publika laddnätverk. Omställningen till fossilfria drivmedel är en viktig pusselbit för att Kalmar län ska kunna uppnå sitt mål att bli en fossilbränslefri kommun 2030. Kalmar Energi lägger nu i ytterligare en växel tillsammans med Mer för att bidra till denna omställning genom att även erbjuda Kalmarborna laddning hemma. Precis som tidigare kan Kalmar Energis lokala säljkår genom Mer's helhetslösningar för laddning på ett tryggt sätt fortsätta hjälpa företagskunder och bostadsrättsföreningar inom regionen med deras behov av smidig elbilsladdning.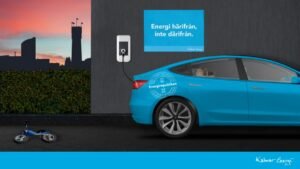 – Vi ser fram emot vårt fortsatta samarbete med Kalmar Energi. De är ett ledande energibolag med stark lokal närvaro som erbjuder 100% förnybar energi. På så vis är de en viktig samarbetspartner i vårt arbete med att göra e-mobilitet tillgänglig och enkel för alla. Det skapar även en trygghet för alla i regionen att ha lokala säljare från Kalmar Energi som kan hjälpa till att lösa deras laddbehov vilket vi tror blir mycket uppskattat, säger Tobias Uppström, Head of Sales and Marketing på Mer Sverige.
Ladda elbilen med laddbox hemma
Nu stärks Kalmar Energis erbjudande för elbilsladdning med laddbox hemma som säljs direkt via Kalmar Energis hemsida. För elbilsföraren innebär det att man kan få hjälp lokalt med en laddbox för snabb och säker laddning hemma i villan. Detta kommer att bidra starkt till omställningen till elektrifierat eftersom majoriteten av all laddning görs hemma, eller på jobbet där elbilen står parkerad under en längre tid.
– Vi är glada att kunna utöka vårt samarbete med Mer, där vi ser ett stort värde för våra kunder med en branschledande och rikstäckande aktör, säger Marie Rosendal, marknadschef på Kalmar Energi. Vi står för den lokala förankringen och kan hjälpa till att kicka igång el-omställningen med fler laddboxar och laddmöjligheter här i Kalmar, samtidigt som våra kunder får tillgång till bra och enkla laddtjänster genom Mer, avslutar Marie Rosendal.
Mer tillgänglig elbilsladdning längs vägen
Det kommer även att bli ännu enklare att ladda elbilen längs vägen under 2022 för den som bor eller besöker regionen. Kalmar Energi kommer att bygga fler publika laddstationer i kommunen som även dessa kommer att ingå i Mer's publika laddnätverk och synas i Mer's app och laddkarta. Detta är även goda nyheter för alla de som planerar att besöka Kalmar och Öland på sommarens bilsemester.