Internetrevolutionen handlar inte längre om laptops, smarta telefoner och surfplattor.
Tänk er ett hem med en musikanläggning som spelar musik efter ditt humör, ett kylskåp som varnar när mjölken börjar ta slut eller kanske en toalett som berättar hur du mår?
Paraplynamnet för den här typen av teknologi är 'Internet of Things' (IoT) – och den 6 april bjuder Linnéuniversitetet och Kalmar Energi in till en inspirationsdag på temat IoT.
Enkelt uttryckt kan man säga att Internet of Things beskriver ett nätverk av fysiska saker som med hjälp av mjukvara, sensorer och andra teknologier samarbetar och utbyter data med varandra. Tanken är att den här teknologin ska underlätta vår vardag och ju mer apparaterna kommunicerar, desto mindre behöver vi människor göra. IoT-lab är ett projekt där bland annat Linnéuniversitetet och Kalmar Energi hjälper små och medelstora företag i Kronobergs och Kalmar län att utnyttja internet of Things för att utvecklas och hitta nya affärsmodeller. Under inspirationsdagen, IoT Tech Day Kalmar, hoppas man på att fler ska uppmärksamma tekniken.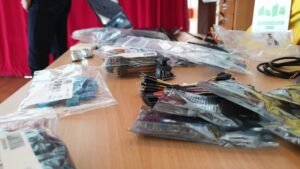 – Jag hoppas att dagen leder till att fler får upp ögonen för alla de fantastiska möjligheter som finns med ny IoT-teknik, säger Fredrik Ahlgren, universitetslektor på på Linnéuniversitetet. Eftersom vi kommer presentera inte mindre än fyra olika pilotprojekt inom varierande bransch-områden, så är min förhoppning att detta blir en möjlighet för att fler företag inte bara ska få idéer för nya tillämpningar, utan också ges ett tillfälle att utbyta erfarenheter och nätverk mellan branscher – med IoT som den gemensamma nämnaren.
Vilka intressen har ett lokalt infrastrukturbolag som Kalmar Energi av framtidens teknik? Anna Karlsson, VD på Kalmar Energi kommer under dagen att prata om hur IoT kan vara en komponent när man vill bygga säkra, hållbara och smarta städer. IoT kan spela en viktig roll för till exempelvis avfalls- och vattenhantering, mätning av luftföroreningar men också inom sjukvård, trafikledning och kollektivtrafik.
– Kalmar Energis vision "Tillsammans skapar vi förutsättningar för att bygga och trygga ett innovativt, tillgängligt och hållbart Kalmar" bygger just på tanken att tidigt rulla ut teknisk infrastruktur där sedan flöden av både energi och data kan fyllas på, säger Anna Karlsson. När olika kompetenser möts och samverkar kan vi lösa samhällets verkliga problem och minska resursanvändningen på många olika plan. Den här dagen är steg på den vägen.
Inspirationsdagen kommer även att direktsändas öppet via internet och presentationerna kommer att hållas på både svenska och engelska.
Deltagandet är gratis och ett startpaket med IoT-sensorer ingår till alla som anmäler sig (så länge lagret räcker).
När: Inspirationsdagen går av stapeln den 6 april kl 10-12 på Linnéuniversitetet.
Var: Universitetsplatsen 1, Kalmar
Sal Cyan (fjärde våningen)
Hus Culmen