Kan elbilsladdning hemma löna sig, är elbilen en energikälla och hur ska konsumenten välja sina laddsystem?
Det är ämnen som kommer att diskuteras och presenteras på några av kunskapsseminarierna på eCarExpo på Friends Arena i Stockholm 29 april-1 maj.
Intresset är stort för lösningar som kombinerar och optimerar elbilsladdning, solenergi och lagring såväl i småhus som i flerfamiljshus.
Forskningen kring elbilsladdning handlar mycket om energihushållning, smart styrning av el och att skapa hela energisystem i villor och flerfamiljshus. Patrik Ollas, industridoktorand på RISE, Research Institutes of Sweden, som forskar kring solel och batterilagring förklarar:
– Potentialen och framtiden för elbilsägare som kan ladda hemma ligger i att skapa ett eget energisystem för el och värme i fastigheten som kan samverka med övrig infrastruktur. Smart laddning handlar om att kapa effekttoppar, minska energikostnader och att lagra el som kan användas när el är som dyrast.
– Lagring av elektrisk energi i byggnader sker idag främst med hjälp av stationära batterier – oftast i kombination med solcellsmoduler, men kommersiell teknik utvecklas nu även för att använda elbilens batteri i samma syften – så kallad Vehicle to Everything (V2X).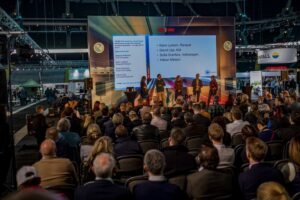 Han sammanfattar sina rön i tre tips till elbilsägaren:
Satsa på laddsystem med inbyggd lastbalansering
Installera solel i kombination med smart energistyrning
Lyssna på prissignaler och anpassa elbilsladdningen därefter.
Flera seminarier och utställare på eCarExpo ger besökarna kunskap hur man kan ladda smart i såväl villa som flerfamiljshus. Just solceller och energisystem tilldrar sig stort intresse på mässan och i kunskapsseminarierna.
Av två av marknadens specialister, Svea Solar och Gruppsol, kan besökaren få goda råd om hur man väljer rätt solpaneler för sina behov. Tillsammans med företaget Ferroamp förklaras också nyttan och ekonomin i att skapa ett helhetstänkande i fastighetens energisystem. Det handlar även ett inspirationsföredrag, "Hur många elbilar behöver elnätet?", av Jonas Tannerstad om, teknisk chef för Örebrobostäder. Han och ÖBO vann Laddguldet 2021 för sitt ledande helhetstänk kring hur elbilsladdningen kan hänga samman med produktion, lagring och delning av el i bostadshus.
Ett seminarium med BilSweden, Fastighetsägarna och Defa reder ut de boendes rättigheter och krav på elbilsladdning i flerfamiljshus och vilka regler som gäller.
Garo och Defa, två av de ledande företagen med laddsystem för elbilar och partners i eCarExpo, visar även olika lösningar på individuell fordonsladdning i villor och flerfamiljsfastigheter och hur man kan lösa effekt- och kostnadsproblem med lastbalansering.
eCarExpo har sedan starten för sex år sedan etablerat sig som den ledande elbilsmässan i norra Europa, där just högaktuella kunskapsseminarier och möjligheten att provköra marknadens senaste elbilsmodeller är hörnstenar vid sidan av de senaste bilnyheterna.
– eCarExpo är mötesplatsen för både konsumenter och elfordonsbranschen. Här kan man få svar på alla sina frågor inför elbilsköpet och hur man kan ladda mest ekonomiskt, säger Gunnar Dackevall, vd och grundare av eCarExpo.
Vi välkomnar dig som journalist, fotograf och aktör i media och sociala medier att ackreditera dig för att besöka och bevaka eCarExpo på Friends Arena i Stockholm, 29/4 – 1/5 2022.