Sedan 2018 delas priset för utmaningen The BoKlok Challenge årligen ut på Luleå tekniska universitet.
Priset går till studenter i kursen Industriellt byggande, som skapat bäst innovationer för byggande inom ramarna för ett projektarbete.
I tisdags korades årets glada vinnare i Luleå.
The BoKlok Challenge initierades 2018, då BoKlok ingick partnerskap med Luleå tekniska universitet, LTU, som akademisk partner. Priset ska sporra studenterna i projektarbetet inom kursen Industriellt byggande. Projektarbetet som helhet syftar till att skapa innovationer för byggande och att formulera affärsidé, affärsplan med mera för ett identifierat marknadsbehov – och visa hur det förbättrar.
I år var den stora utmaningen för studenterna som deltog i The BoKlok Challenge att verkligen tänka till kring hållbarhet i sina idéer, något som ligger oss på BoKlok varmt om hjärtat.
– Hållbarhet är en stor och viktig fråga för oss på BoKlok och det vill vi såklart förmedla, samtidigt som vi vill visa studenterna att vi förväntar oss att de riktar sin kreativitet på detta. Då kan det nämligen bli riktigt fina resultat i form av att hållbarhet, kundfokus, sänkta kostnader och affärsmöjligheter samverkar – och det är ju då blir som mest spännande! säger Jerker Lessing, forsknings- och utvecklingschef på BoKlok.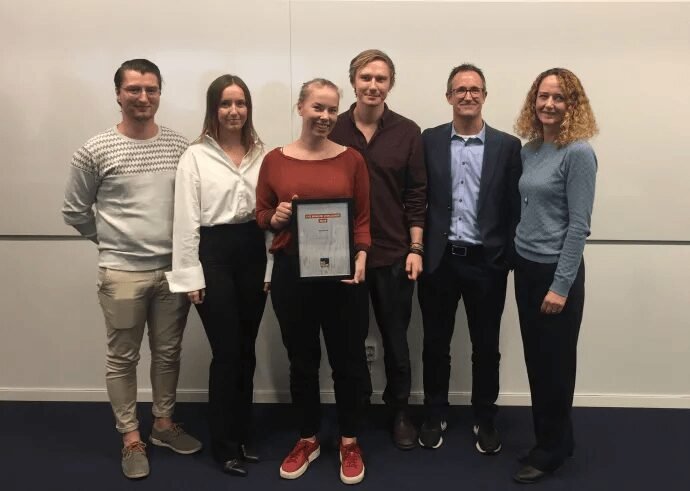 Vinnare i 2019 års utmaning blev Isak Holmgren, Rebecca Söndergaard. Mikaela Sundqvist och Erik Remnegård. De fyra studenterna kom på en lösning för källsortering och sophantering i bostadshus, som uppmuntrar och premierar de boende som sorterar sitt avfall i hög grad och därmed genererar mindre restavfall. Genom att mäta och följa upp data synliggörs avfallsmängderna och gör de boende medvetna samtidigt som det kan ge minskade transporter med sopbilar och lägre kostnad för de boende genom en minskad månadsavgift. En sådan lösning kan ge effekt för hela bostadshusets livslängd. Detta visar att hållbarhet inom byggbranschen kan ta sig uttryck på många olika sätt och att även boende kan göra aktiva val som spelar roll. På BoKlok uppmuntrar vi till, och underlättar för, ett hållbart liv hemma för de som bor i våra hem – så en sådan här lösning känns mitt i prick när det kommer till just det!
Motiveringen till det vinnande bidraget är: "En idé som ger tydlig förändring under lång tid, och aktivt uppmuntrar till hållbart beteende hos de många människorna.". Priset delades ut på plats i Luleå av Jerker Lessing, och Sara Erman, chef Projekt, från BoKlok.
BoKlok vill aktivt uppmuntra att skapa innovation både när det kommer till boende och byggande, och utmana det etablerade genom att bidra till att ifrågasätta branschens invanda mönster. Gärna med hjälp av kunskap och insikter men också med ett stort mått kreativitet.
– Det här är en bra idé som har stor potential. Den främjar bra beteende och sänker samtidigt kostnader. Vi hoppas att The BoKlok Challenge ger studenterna extra drivkraft att vara kreativa och lösa viktiga och riktiga problem. Vinnarna, och hela kursen, har verkligen imponerat på oss och jag känner stor tillförsikt att de kommer bidra till en utveckling i branschen i framtiden, avslutar Jerker Lessing.